The sweet Angie from
Lucky Pony
together with
Starling & Hero
has the
raddest give-away
of all time running on her blog. You can win this... actually, no I will win this:
I know right?!
The Hubster and I were away for the weekend, covering a wedding in the Drakensberg when I saw Angie's tweet! I was bouncing of the walls in our little cabin in the 'berg! Oh. My. Hat!
I just came home to my sweet-sweet Interweb connection to blog the motherflippness out of this competition. You see, it gives me another entry since the draw is completely random and left completely up to chance I have to get as many entries as possible. I didn't know that. I was hoping for best comment - so I put A LOT of love into that comment, which kinda turned out to be more like a letter. I even drew a picture. Yep, I want the bike
that
bad.
Man oh man, I seriously hope I win.
Here's my letter to Angie, and my picture. Yes, you may all laugh (at the picture - not my letter. My letter is awesome.)
Dear Angie and sweet friends from Starling & Hero.
For my b-day this year my father gave me his vintage bicycle that he's had since he was 8.
He knows my heart so well.
You might think that it's a small bike, but in fact in the olden days folks would buy their kids a big bike and make them ride it forever. Makes sense. There are scratches on the centre bar from where my dad would balance a metal milk bottle between his legs on his way home from the corner cafe to the farm he grew up on. ( just a sweet story to make you go 'aw').
My husband and I have been saving up and we almost have enough money to bring it to Starling & Hero and let them do their magic and turn it into a shiny piece of awesome. You see, if this bike had been a tandem bicycle I wouldn't be writing you this letter. But it's not a tandem bicycle. Which is why I hope that I can win this bike for my husband (and blue is his favourite colour – I'll just have to snatch the basket off and put it on mine). We will then cycle hand-in-hand with our pretty new old bikes into the sunset all the way back to our sweet home in Cape Town because we don't have a mom/uncle/cousin who owns a courier company (oh and on the way we will also be practicing all the no-hands moves the sweet friends from Starling and Hero demonstrated in their awesome video. I am especially excited to try out the Tea one).
Thank you and all my love,
Maike McNeill

And here's my father's bicycle, which is now my bicycle, that is still living in Pretoria.
Shame, it doesn't even have a saddle.
But that's okay because we're gonna get it to the awesome guys at Starling & Hero real soon and then it'll get a pretty
Brooks leather saddle
and be sprayed cream and mint green. Ooooh it'll be so damn pretty.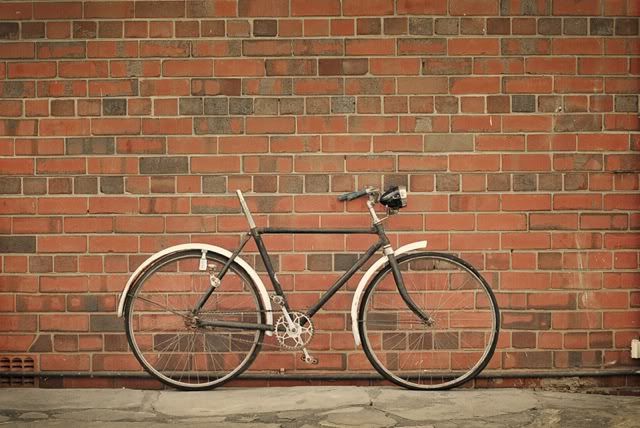 Oh and you guys have to check out the awesome 'No-hands moves' I said we'll practice when we ride into the sunset.
So sweet.
I really can't wait to do the 'Tea' one.
"Golden Tree" by Martin Brooks from Ninian Doff on Vimeo.
So friends, you better NOT go enter that competition, because that will decrease my chances.
If you do, that's okay. Because if you win I will come steal it out of your front yard.
Oh and Angie, you are awesome. And please make sure my name goes into that hat three times! I commented, tweeted and blogged it! Plus I think I should actually get an extra entry for my awesome picture ;)
xx
Eeeeek! I can't wait for the 16th of December!
Okay,
bye!
x