We've been so busy with work, the wedding and getting tattoos (tattoo post coming up, just to keep you on your toes) that I've completely neglected my blog. But today I was busy with this thing I started for our wedding when Travis suggested that I should document my progress... so it gave me the idea to blog about it.

This is our love tray.


I am a very sentimental and nostalgic dream head. So this means that I have kept all sorts of little notes, pictures (duh) and random corks, ceramic birds and heart-shaped stones that have any kind of link to Travis and my awesome love (yep, it's pretty awesome).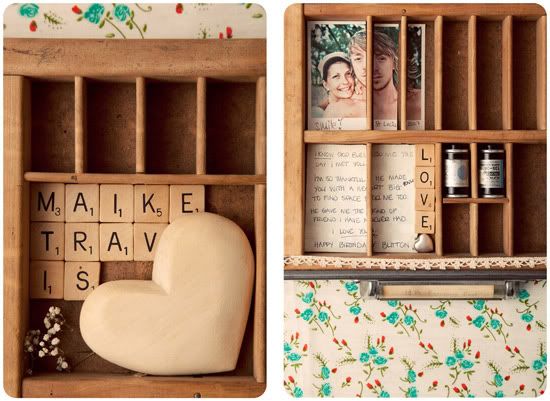 And now I've decided to finally put them all together into a kind of artwork/display, i.e a vintage printers tray. This way we get to share it all with our friends and family at our wedding, plus it guarantees none of my sentimental gems will be thoughtlessly chucked away on moving day!

I have quite a way to go still, so will keep you updated on my progress! x